New 'Robot Line' is in addition to zone dedicated to 'Shine Line' floor polishing demo zone and themed areas dedicated to innovative solutions – the 'Red Line' – and environmentally friendly solutions – the 'Green Line'.
Valencia, 16th October 2023.- The upcoming edition ofHygienalia, Spain's leading even for professional cleaning and hygiene, set to take place from 7th to 9th November in Hall 3 at Madrid's IFEMA exhibition centre, will see the launch of a new zone dedicated to new industrial cleaning robotic products and demonstrations of these devices.
Designated 'Robot Line', the new zone reflects the industry's firm commitment to innovation, which has been a growing presence at Hygienalia. The zone will consist of a space given over to demonstrations, on a vinyl floor, and an exhibition area alongside, where participating companies will display their most innovative products.
Robotic solutions
One example is manufacturer Darlim Robotics, which will be showing their new robotic vacuum cleaners, sweepers and mops that have varying capabilities ranging from 1200 to 3000 m2/h. Another standout feature of this area will be the new Robot K900 by Swiss manufacturer Kemaro AG, which uses algorithms and advanced technology in robotic sensors and can clean industrial facilities up to 20,000 m2.
The 'Robot Line' will also be showcasing the new Multibot robot from Teinnova, a robot that cleans ventilation ducts using innovative, FullHD cameras, and the Multipro model, a pneumatic brushing tool also designed for extractor ducts that has a built-in active foam generation capability.
Also noteworthy is the new Liberty SC60 robot from prestigious manufacturer Nilfisk, which has the biggest scrubbing platform in the market, and intelligent, totally autonomous robotic scrubber Co-Botic 45 from i-team Iberia, which is ideal for hard floors.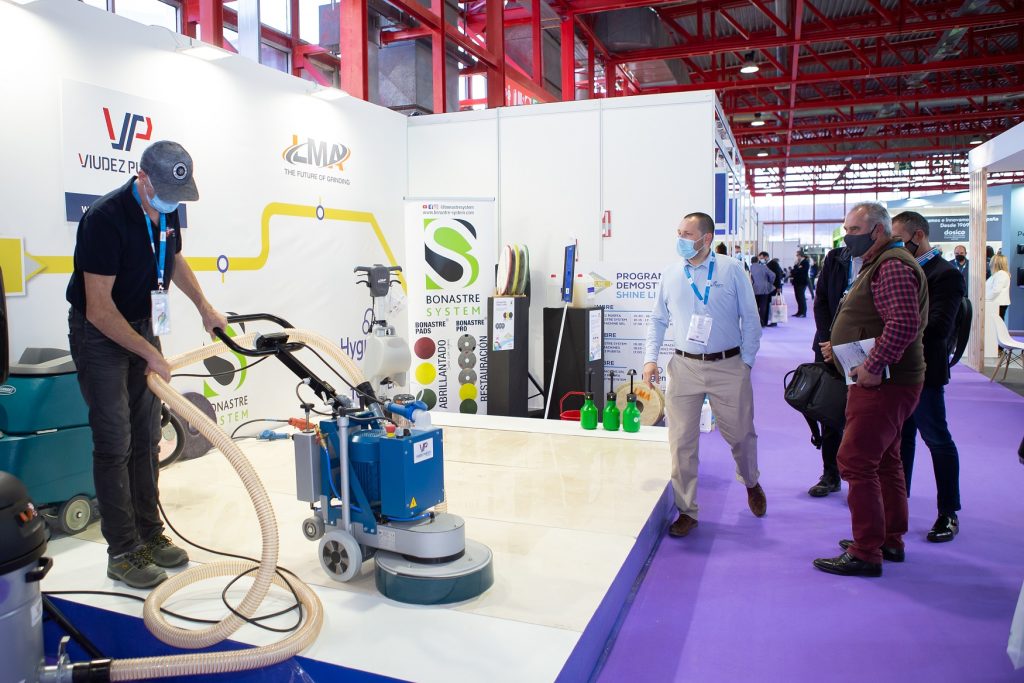 Special treatments for floors
Professionals visiting Hygienalia will also have the opportunity to see another of the show's great demo areas, the 'Shine Line'zone. This is an area dedicated specifically to special treatments for floors that features a demonstration area where the leading companies in this sector will be crystallizing different floors, explaining the effect of the treatment and showing the results. As well as this area, there will also be an area where each company will be showing a machine and/or a crystallizing fluid.
The fair has already confirmed the timetable of demonstrations, which is set to include companies such as Virgola, with its V450S polisher specially designed for hard floors, and Coor & Kleever's diamond disc cleaning and polishing system.
Viudez Puerta SL will also be taking part, with its V5, V6 y V8 products, water-based alkaline solutions that crystallize when applied to terrazzo, marble, limestone and concrete floors, improving some of the features of concrete surfaces. In a similar vein, Bonastre System will be showing its new Bonastre Pads and Pro discs, which are ideal for mechanical polishing and, being able to be used just with water, are environmentally sustainable.
As well as the 'Robot Line' and 'Shine Line', the themed and specialist areas at Hygienalia 2023 include the 'Green Line' zone, with environmentally friendly products and solutions, and 'Red Line' zone, featuring selected, highly innovative products.