An event that get us closer again to every our friends whom we will be happy to receive in our stand C20, with all our affection.
Hygienalia is the perfect chance to strength out our image as young, dynamic and Company wich is worried about offering solutions our clients and comitted to meeting our deathlines.
And above all, this fair is an amazing setting to introduce the two great Lytec novelties; Our range of Black carts and also our brand new app created to improve the communication with our customers.
It has been a long process, a heavy working and stretching out, all for achieving our final challenge; the new BLACK range made with a 97% recycled material. For this reason, our BLACK cleaning carts, room carts and storage carts from the Staff range, will be made in black colour from now one.
Lytec always has believed in the path of circular economy, one that uses industrial waste to manufacture other products like ours, with the same quality and safety for work. And we have achieved it, almost 100% with our range of Staff products. We are committed to the recycling processes of our materials and proud of our results in this way.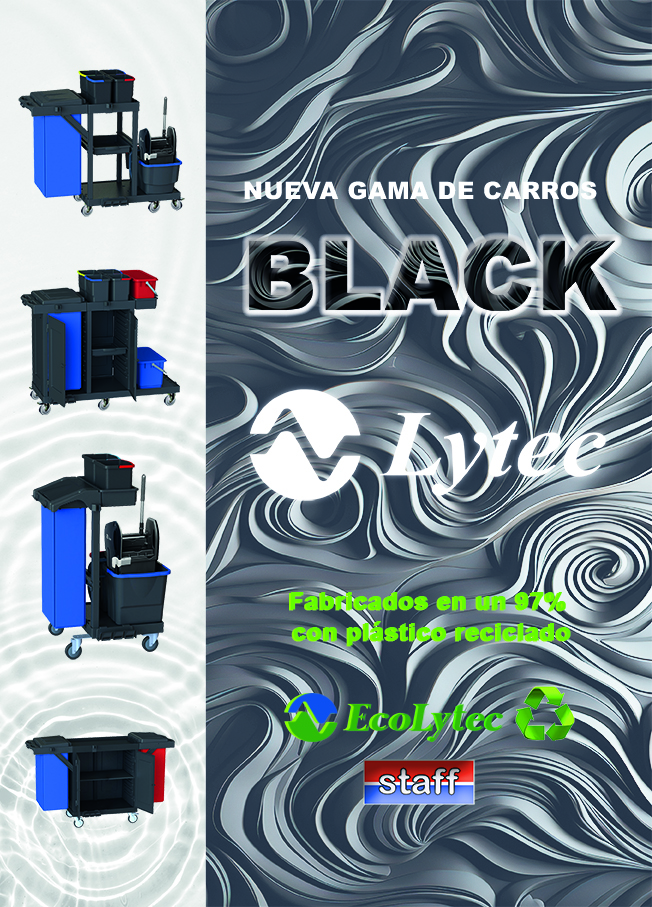 We not only help the Planet breathe. We also help our clients achieve this, manufacturing items designed for recycling all types of materials.
The second great novelty; the new Lytec app through which customers can manage their orders and queries from any Android or iPhone device.
A new way to stay close to our customers, to offer them more facilities to supply their businesses and to receive their news, questions, orders, etc. In short, to maintain constant communication with our clients, serving them 365 days a year, 24 hours a day, through this tool created with only them in mind.
These are just a few clues of what Lytec is going to show at Hygienalia. The rest, you have to come see it. See you in November.