Hako Spain is set to introduce its latest additions to the Hako Scrubmaster industrial scrubber range at Hygienalia 2023 (November 7-9), Spain's premier professional cleaning and hygiene trade fair. Witness firsthand how these innovative scrubbers are transforming industrial cleaning!
Hako Spain will be showcasing their impressive lineup at Hygienalia 2023, featuring renowned machines known for their quality and efficiency, such as the multifunctional street sweeper Citymaster 650. Additionally, they will present three new industrial scrubbers, including two ride-on models and one autonomous scrubber..
Hako Scrubmaster B75 i autonomous scrubber dryer: quality and technology
Do you want to enter the world of robotic industrial cleaning with a German quality machine with technical service in Spain? Introducing the Hako Scrubmaster B75 i, a self-contained scrubber that takes efficiency to another level. What makes it special:
Quick Learning: This scrubber quickly learns its routes, simplifying the tasks of operators.
User-Friendly: Equipped with an 8-inch LCD touchscreen and an intuitive interface.
Versatility: Offers two brush options to adapt to various surfaces.
Precise Navigation: Thanks to its LIDAR sensor, it moves reliably and safely.
Flexibility: Can operate with pre-recorded routes or be manually controlled.
And that's not all! Hako is already working on add-ons like a battery charging base and automatic waste tank emptying.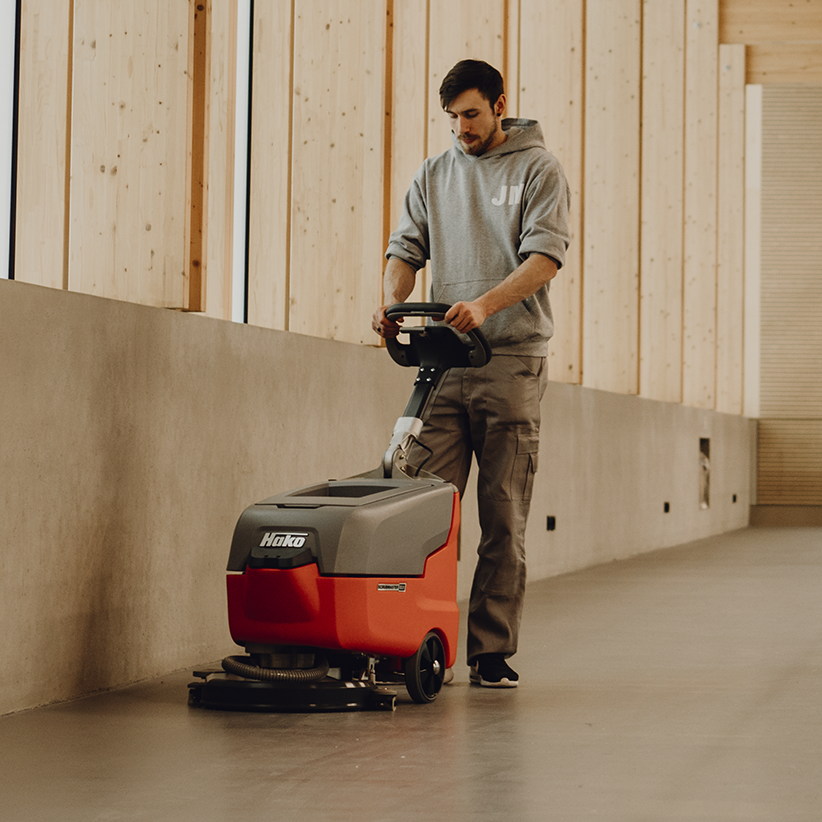 Hako Scrubmaster B25: High Performance in Compact Spaces
For those in need of cleaning confined areas, the Hako Scrubmaster B25 is the ideal choice. It stands out for:
High Performance: Capable of cleaning up to 1,700 m²/h in a compact design.
Practical Handling: Features an ergonomic and adjustable handlebar.
Efficiency: Equipped with an automatic brush ejection and loading system.
Versatility: Adapted for various operators, offering comfort and effectiveness.
Portable: Easy placement in commercial vehicles.
Compact: Occupies minimal storage space due to its dimensions and foldable handlebar.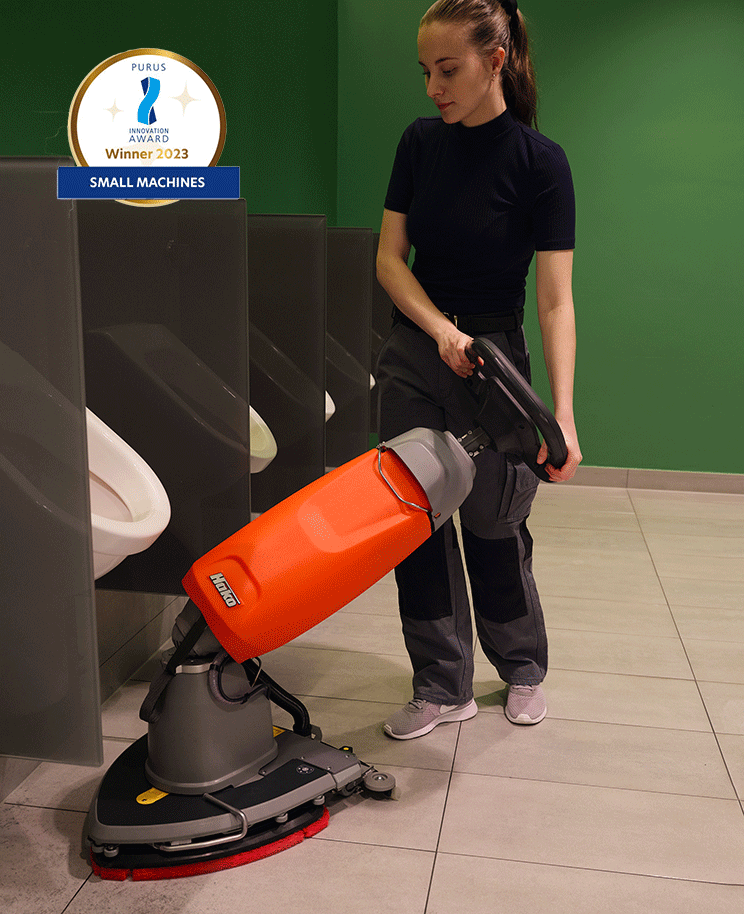 Hako Scrubmaster B5 ORB: Small but Powerful
Winner of the PURUS Innovation Award in the Small Scrubbers Category at CMS Berlin 2023.
The Hako Scrubmaster B5 ORB is the perfect vertical orbital scrubber for accessing tight spaces. Its features include:
Access to Difficult Spaces: thanks to its flat delta-shaped cleaning head and swiveling handle.
Versatility: offers the choice of a brush or pad to suit different surfaces.
Lithium-Ion Battery: lightweight and easy to replace.
Easy Transportation: its lightness and transport wheels facilitate mobility.
Environmentally Friendly: eco mode reduces noise and saves energy.
Furthermore, the Hako AntiBac version comes with an antibacterial tank, meeting the highest hygiene standards, making it ideal for environments susceptible to virus and bacteria growth..
About My Company
Hako Spain, S.A.U. is the Spanish subsidiary of Hako Group, a global leader in the manufacturing and marketing of cleaning machinery, including sweepers, scrubbers, and road maintenance machines.
Contact Information
Loles Arjona
Marketing Manager
marjona@empresa.com
www.hako.es