EcoNatural's road to sustainability has reached a new milestone aimed at further reducing its environmental footprint on the planet and help to mitigate climate change.
The EcoNatural toilet papers and hand towels, manufactured in Diecimo and Laval plants, have obtained, in compliance with PAS 2060 and ISO 14067 standards, the Product Climate Neutrality, that means all greenhouse gas emissions generated in the life cycle of the product over a given timeframe have been reduced or offset until they are completely zero.
A path consisting of precise steps defined by international standards that can be summarised as measure, reduce, compensate.
The first step involved measuring the Carbon Footprint of the product, considering its entire life cycle, while the second step consisted of defining and implementing the reduction of CO2-equivalent emissions through the optimisation of production processes. In 2022 compared to 2021, Lucart have reached a reduction of 15,781 tonnes of CO2e is estimated because of the efficiency and optimisation activities of the production plants.
Then the final step, saw the offsetting of non-reducible emissions by supporting climate and sustainable development projects: Lucart decided to support the people of Uganda and Malawi by installing dispenser that make water potable, and avoiding the use of biomass combustion to mitigate an average of 20,375 tonnes of CO2e per year from 2021.
But is just the very last chapter of a story of love and respect for our planet started 12 years ago with the birth of EcoNatural, the system to turn something no longer needed into a resource by recycling 100% of beverage carton components through a one-of-a-kind manufacturing process in the sector.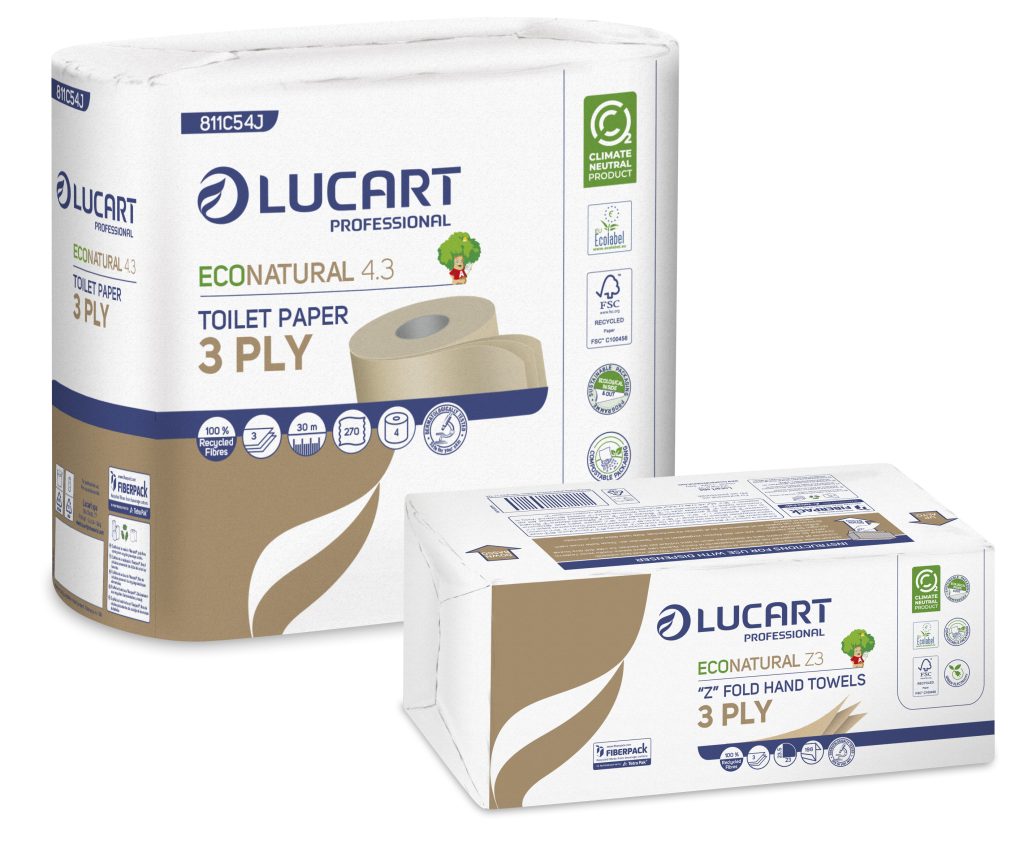 Cellulose fibres are used to produce Fiberpack®, the raw material employed to make toilet paper, handtowels, handkerchiefs, napkins and rolls for the EcoNatural line. Polyethylene and aluminium are used to produce Al.Pe®, which in turn is employed to make paper dispensers, pallets to transport goods and other products.
EcoNatural project guarantees a tangible and measurable eco-friendly solution. Indeed, considering the tonnes of Fiberpack® paper produced, in 2013-2022, Lucart contributed to the recovery of over 9.1 billion 1L beverage cartons, covering a distance equal to 52 times the planet's circumference. It saved more than 3.9 million trees, for a surface area equivalent to 13,400 football pitches, and avoided 239,500 CO2e emissions emitted into the atmosphere, equal to the emissions of 1,842,162 journeys by car from Paris to Frankfurt. In the period 2017-2022, Lucart Professional recycled the aluminium and polyethylene parts of 7.8 million of beverage cartons thanks to the production of AlPe® dispensers.
EcoNatural tissue products can proudly be recognized as circular, sustainable and environmentally friendly being multi certified, all the products of this range are EU Ecolabel certified, FSC® Recycled certified and from 2021 all EcoNatural products manufactured in our plant in Laval are Cradle to Cradle Certified®. Lucart path towards a concrete and complete sustainability is not only limited to the product itself, the standard packaging, when possible, is replaced with recycled and compostable paper packaging or with recycled plastic packaging. Green Electricity sourcing had been a milestone of our constant improving process, the 100% of electric energy used during production and converting of EcoNatural products comes from renewable resources.
From 2021 also EcoNatural dispensers gained an important certification: ReMade in Italy®, the first accredited product certification in Italy and Europe to verify the content of recycled material in a product. Certification attests the traceability of production, starting from the verification of the source of input raw materials, to the finished product, representing a tool for transparency and simplification for Green Public Procurement and the private market.
Lucart Professional EcoNatural represents the virtuous system that has allowed Lucart to become a true circular economy benchmark in Europe and continuing to be a pioneer in the tissue paper market.
Discover more about EcoNatural range @stand G20.